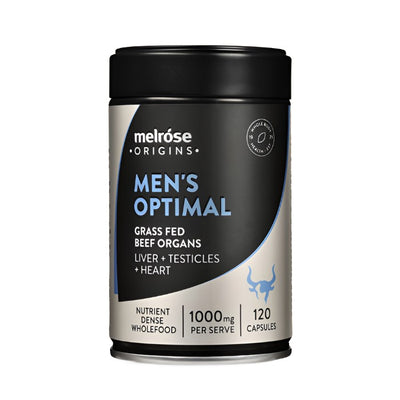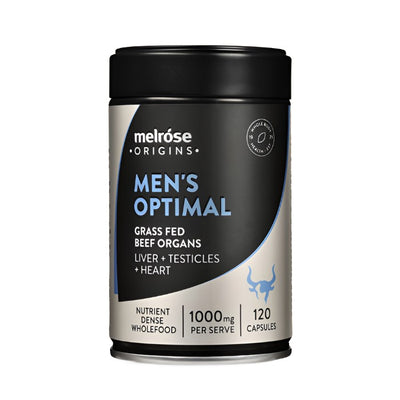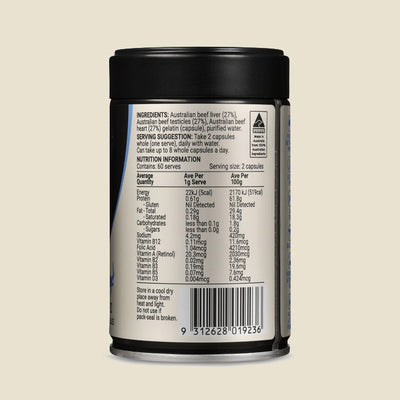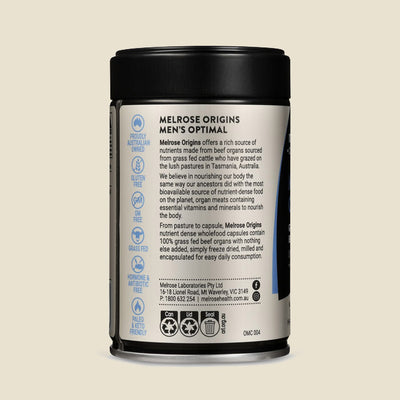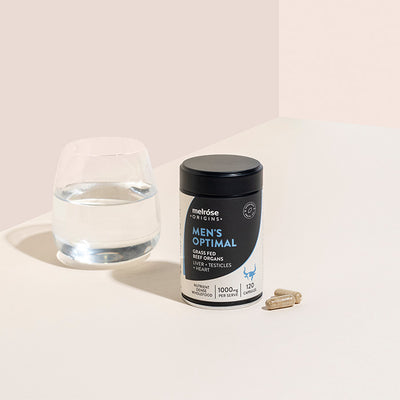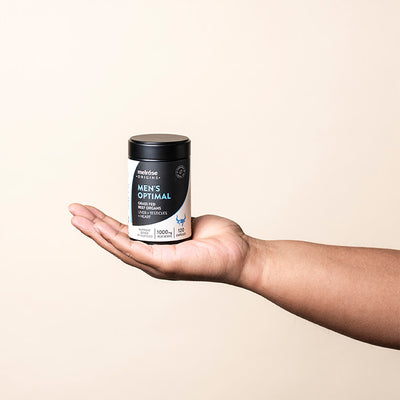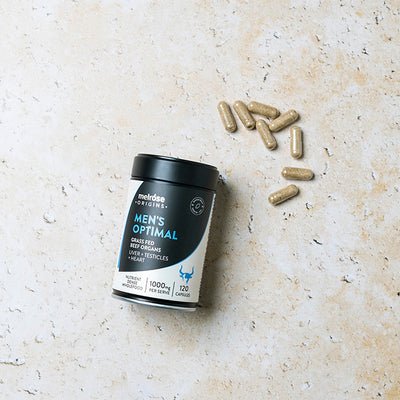 Men's Optimal - Grass Fed Beef Organ Capsules
Melrose Origins Men's Optimal is a premium blend of liver, testicles, and heart sourced from grass-fed, pasture-raised animals. Our product is made with 100% natural ingredients and is specifically formulated to support men's health and well-being.
Each capsule provides a unique profile of essential nutrients that are may be particularly beneficial for men. Beef liver is an excellent source of iron and vitamin A, while heart is a rich source of CoQ10 and vitamin B2. Testicles are a source of essential vitamins and nutrients, which supports healthy hormone levels and overall vitality.
Satisfaction Guaranteed
Free Shipping $80
Feeling young again!
"My physical performance is up, my recovery is up, my mood is up and I'm feeling great! You really feel a boost of vitality on these AND they're Australian!! I'm never going back!"
What is Men's Optimal - Grass Fed Beef Organ Capsules

Natural and Sustainable Whole Body Health 

A P

remium Blend of Grass-Fed Beef Liver, Heart + Testicles

Specifically Formulated to Support Men's Health

Natural Source of Vitality

1000mg Per Serve
Australian Sourced Tasmanian Cattle
Pure Nose to Tail Nourishment
Freeze-Dried to Preserve Nutrients
Hormone & Antibiotic Free
Keto, Paleo & Carnivore friendly
How long is shipping?

Update this text in the theme editor
100% Australian Grass-Fed
100% Tasmanian grass fed beef organs, the epitome of wholesome goodness.
The Ultimate Multi-vitamin
Unlock the power of nature's most bio-available multi-vitamins.
Synthetic Free Vitamins
Embrace the nutritional goodness of natural wholefood sources.
The Power of Organ Meat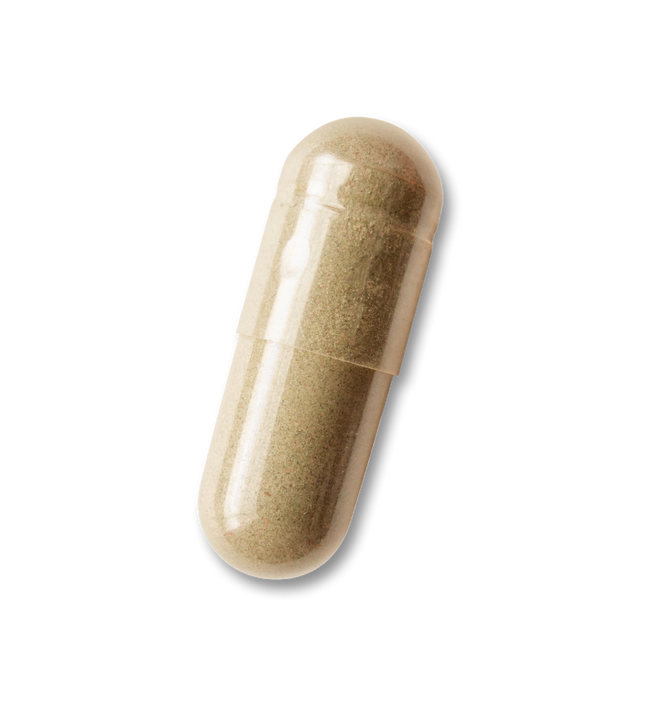 BENEFITS OF GRASS-FED HEART
BENEFITS OF GRASS-FED BEEF TESTICLES
BENEFITS OF GRASS-FED BEEF LIVER
ESSENTIAL VITAMINS AND MINERALS
Men's Optimal
Ingredrients: Australian Beef Liver (27%), Australian Beef Testicles (27%), Australian Beef Heart (27%) Gelatin (Capsule), Purified Water