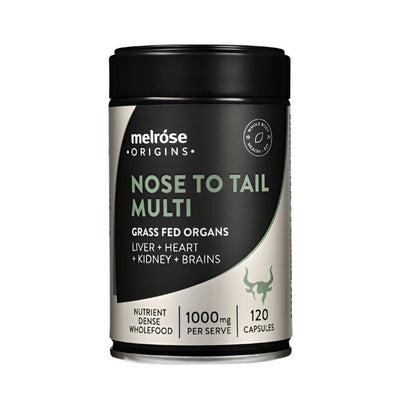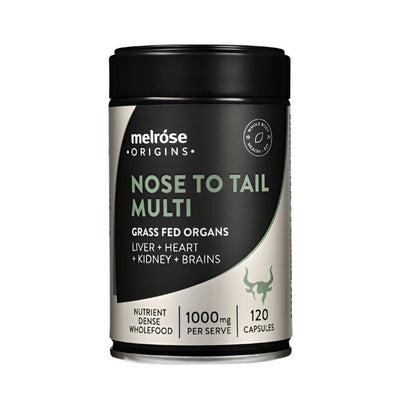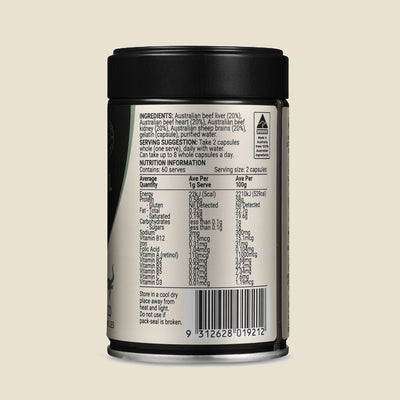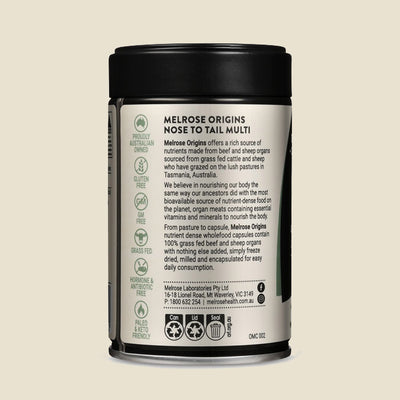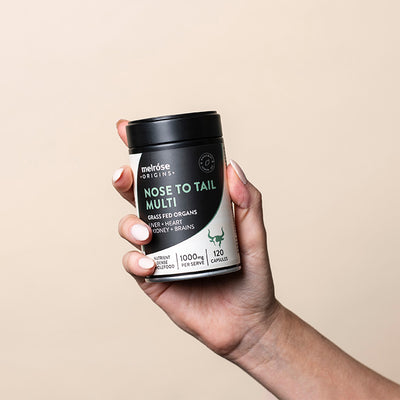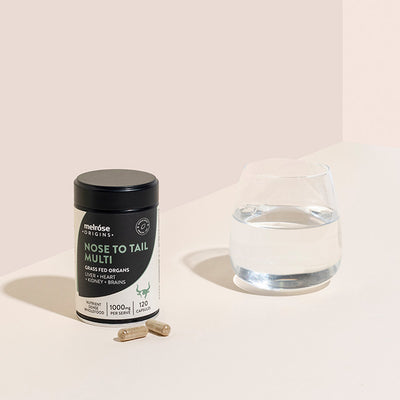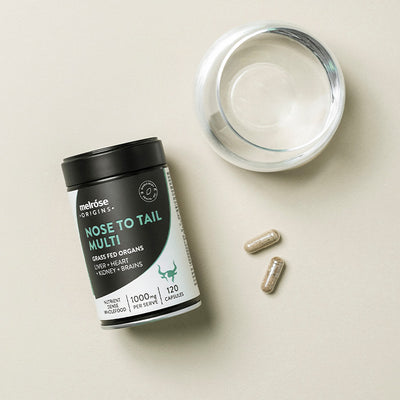 Nose To Tail Multi - Grass Fed Organ Capsules
Melrose Origins Nose to Tail Multi is a premium blend of liver, heart, kidney, and brains sourced from grass-fed, pasture-raised animals. Our capsules are made with 100% pure and natural ingredients, without any fillers or harmful additives.
Each organ in our blend provides a unique profile of essential nutrients and a source of vitamins, minerals, and amino acids. Beef liver is rich in vitamin A, B12, and iron, while heart is a great source of CoQ10 and vitamin B2. Kidney is a potent source of vitamin B12 and selenium, and brains contain important omega-3 fatty acids and phospholipids that support brain function.
Satisfaction Guaranteed
Free Shipping $80
Ultimate nutrition made easy!
"You don't realise how deficient you are in these nutrients until you take this! Your energy, vitality and focus will change. This makes boosting my daily nutrient intake so simple."
What is Nose To Tail Multi - Grass Fed Organ Capsules

Natural and Sustainable Whole Body Health 

A P

remium Blend of Grass-Fed Liver, Heart, Kidney + Brains 

Specifically Formulated to Support Whole-Body Health

1000mg Per Serve
Australian Sourced Tasmanian Cattle and Sheep
Pure Nose to Tail Nourishment
Freeze-Dried to Preserve Nutrients
Hormone & Antibiotic Free
Keto, Paleo & Carnivore friendly
How long is shipping?

Update this text in the theme editor
100% Australian Grass-Fed
100% Tasmanian grass fed beef organs, the epitome of wholesome goodness.
The Ultimate Multi-vitamin
Unlock the power of nature's most bio-available multi-vitamins.
Synthetic Free Vitamins
Embrace the nutritional goodness of natural wholefood sources.
The Power of Organ Meat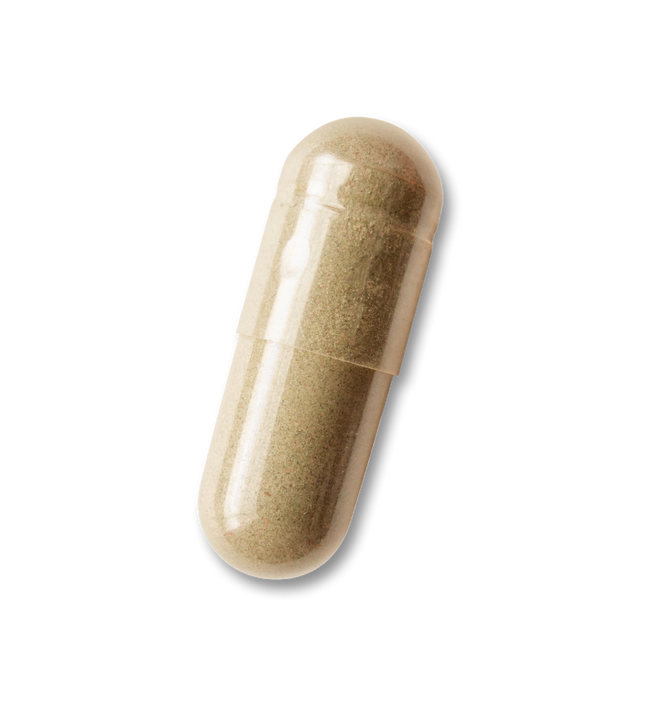 BENEFITS OF GRASS-FED HEART
BENEFITS OF GRASS-FED SHEEP BRAIN
BENEFITS OF GRASS-FED BEEF LIVER
BENEFITS OF GRASS-FED BEEF KIDNEY
The Most Bio-Available Multi-Vitamin On The Planet
Nose To Tail Multi - Grass Fed Organ Capsules
`
Nose To Tail Multi
Ingredrients: Australian Beef Liver (20%), Australian Beef Heart (20%), Australian Beef Kidney (20%) Australian Sheep Brain (20%) Gelatin (Capsule), Purified Water